TEMS Solutions SWAT-T (Stretch, Wrap & Tuck Tourniquet)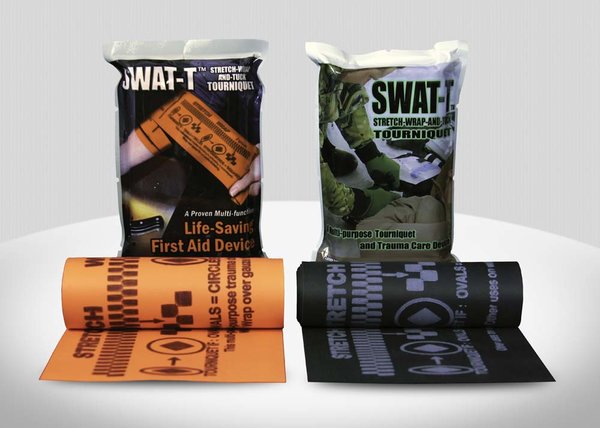 TEMS Solutions SWAT-T (Stretch, Wrap & Tuck Tourniquet)
Developed by an operator with over 14 years of experience as both a USAF PJ and a DOD Contractor, the SWAT-T is a simple, light weight, compact and cost effective life saving First Aid Tool. But is it effective? Yes! A 2014 study showed that out of 32,956 applications, there were ZERO First Time Use Failures, resulting in full occlusion of arterial blood flow in all cases studied. A 2013 study revealed lower incidence of neurological or muscular insult, a direct result of the products deign using a wide pressure band, over twice the width of commonly available Windlass style Tourniquets. In addition to its exceptional track record in managing trauma in Adults, they are also ideal for use with small children who have less muscle mass in their extremities than adults. The SWAT-T is also an excellent choice for managing hemorrhage in canine trauma due to the tapered structure of their limbs.

-Compact, Lightweight design.
-Latex Free.
-Heat and Cold tested for use in extreme environments.
-Low cost: around 1/3 the cost of windlass type tourniquets.
-Intuitive design and deployment - minimal training is required.
-Excellent track record in multiple patient populations, and with Canines.
-Multi Use: Use as a Tourniquet, a pressure bandage, to stabilize fractures and more!
Dimensions:
Packaged:6" x 3" x 1/2"
Length (Before being stretched): 4" x 56"
Weight: 4 oz