PerSys Medical Israeli T3 Bandage, 4"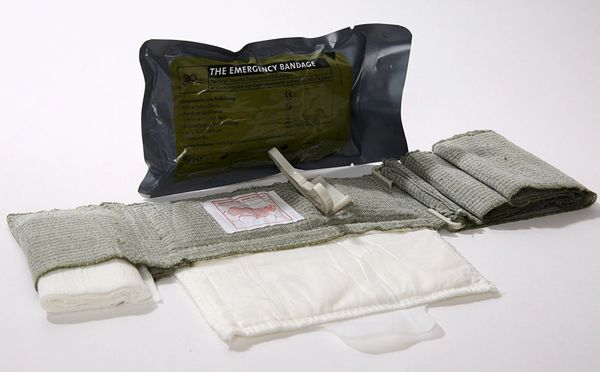 PerSys Medical Israeli T3 Bandage, 4"
PERSYS MEDICAL ISRAELI T3 BANDAGE, 4".
The T3 (Tactical Trauma Treatment) Bandage represents the newest generation of the battle proven Israele Emergency Bandage comes packed with several great features! This bandage is currently in use by the United States Armed Forces, as well as Law Enforcement and EMS agencies across the world. Why improvise? This device incorporates gauze dressing, elastic bandaging and a pressure application bar into one compact and easy to use device. The innovative design also includes an expandable and detachable wound pad for greater coverage, and includes a pack of sterile gauze for wound packing.

Product Information:
- Designed for rapid, single hand application (Can be applied to yourself in an emergency).
- FDA Approved, Patented (internationally) Pressure Bandage.
-Built in pressure application / elastic routing bar.
- Sterile, non-stick pad.
- Multi use item, can be used on many body areas.
- Compact, lightweight, vacuum sealed packaging.
-Detachable / expandable wound pad (can be used to bandage amputated stumps, to cover large wounds or burns, or can be separated and used to cover an entrance and exit wound).
-Sterile wound packing / wrapping gauze is included inside the packaging.
- Tactical Coloration (OD Green).
- X-Ray Compatible.
-Built in closure bar - no tucking or tying required.
-ELastic wrap has stays included - it won't unroll itself during application.
DIMENSIONS:
- (Vacuum Packaged): 4.5" H x 2.75" W x 1.75" D
- Weight: 3.8 oz
- Color: Olive