NRA Basics of Pistol Shooting - Phase 2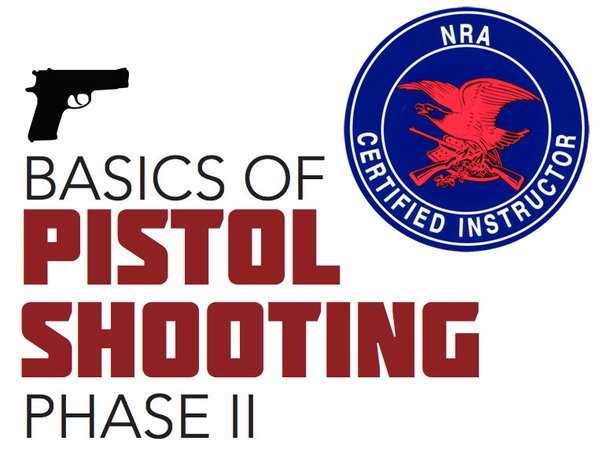 NRA Basics of Pistol Shooting - Phase 2
The NRA Basics of Pistol Shooting course (Phase 2) is the classroom and live fire portion of the NRA Basics of Pistol Shooting Program. Phase 1 is available online throughout the NRA here, and carries with it an additional fee (currently $60). This course is recommended for all pistol shooters, from beginners to advanced, and is a great course for youth shooters. This is an excellent foundation course for all of the Pistol courses offered by Archangel Dynamics, including our CCW courses (Basic and Advanced), and our soon to be released Combat Pistol Course.
During this course, students will receive intensive lessons in safety, gun handling, the various types of pistols, the fundamentals of pistol marksmanship, various pistol firing positions, several practical exercises on the firing range, cleaning, storage, and a summary of pistol sports and activities.

Areas covered:

1. Pistol Knowledge and Safe Gun Handling and Storage.
2. Ammunition Knowledge and Fundamentals of Pistol Shooting.
3. Two-handed and One-handed Standing Shooting Positions.
4. Pistol Sports and Activities.
5. Live Fire Qualification.
Prerequisites
You must complete Phase 1 of Basic Pistol online, which incurs a separate fee paid to the NRA. The link for the Online Portion is listed above. You will need to bring proof of completion to Day 1 of our course. You must sign up two weeks before the class date. This material is easy to understand, and we welcome children over the age of 12 with an accompanying adult also enrolled in the course.
You will need to bring a pistol to this course, along with approximately 50 rounds of ammunition per student. Appropriate range attire is required (Pants, closed toed shoes or boots, and a shirt. A hat is also a good idea, as many of the ranges that we visit are outer ranges. You will also need to bring along Ear and Eye protection).

No refunds. All sales are final. Please see our Terms & Conditions page.