CONDOR TQ POUCH 1 HAND DEPLOYMENT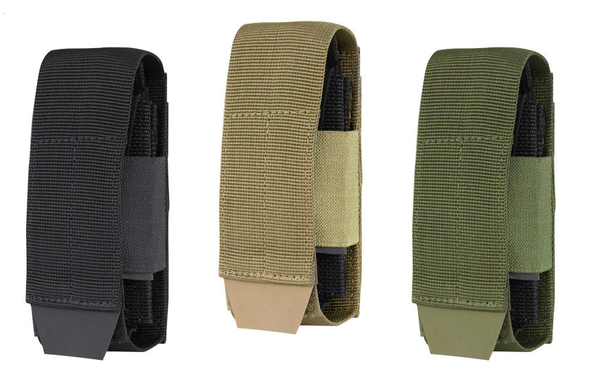 CONDOR TQ POUCH 1 HAND DEPLOYMENT
The Condor Universal TQ pouch was designed to carry most of the commercially tourniquets on the market today, such as the NAR Combat Application Tourniquet or the SOFT-TW. The innovative design of this pouch allows for single handed deployment. Once the pull tab is opened, the pouch completely opens, and your Tourniquet is retained by an interior elastic strap. This can be mounted to a belt or any MOLLE compatible equipment such as a Plate Carrier, Chest Rig, Backpack or one of our IFAKs. This also makes an excellent Tourniquet Pouch for Law Enforcement Officers to carry on their duty belt, or for anyone looking for an easy, convenient and purpose built method of carrying a Tourniquet as part of their EDC.
FEATURES:
- MOLLE Compatible Mounting system, can be mounted at the 12 or 6 O'Clock position.
- Dimensions: 7.5"H x 3.5"W x 3"D.
- Available in BLACK, OD GREEN and TAN.
- Pull tab with hook & loop closure.
- Compatible with many Tourniquets on the market.
- Single hand deployment technique.
- Interior elastic fastener secure with hook & loop.
- Imported.