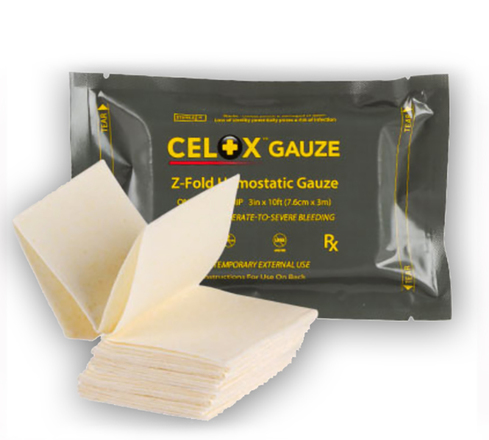 CELOX Gauze, 10' Z-Fold
Celox Gauze is the treatment for severe bleeding. This hemostatic gauze has been in use by UK and other forces and is now recommended by the US military Committee on Tactical Combat Casualty Care. It uses the proven Celox granules laminated on to a dense gauze, so it is quickly and easily packed into bleeding wounds. The hemostatic gauze is especially useful in challenging conditions, in wind, rain or poor visibility.
In the recent DoD comparative study, CELOX Gauze had the least overall blood loss, the highest observed survival and the highest overall hemostasis of all products.
Celox Gauze is available z-folded in a compact pack for ease of packing in IFAK and quick packing into wounds.

Benefits and Features
* Coated gauze allows for convenient placement at source of bleeding
* Not affected by windy conditions
* Saves lives by controlling bleeding within minutes
* Works in cold conditions and with hypothermic patients
* Works on anti-coagulated blood
* Works independantly of the Clotting Cascade.
* Lower overall incidence of Coagulaopathic disorders.
* No heat generation with use and no burning of tissues
* Sterile, waterproof packaging
* Easy to remove and irrigate from wound
* No scissors or shears required - tears easily to required length.

Dimensions: One Gauze Strip: 3" x 10' (7.6cm x 3.0M)
Dimensions: 4.25" x 6.75" x 1" (packaged)

Weight: 2.1 oz