Archangel Dynamics Arizona Concealed Weapons Permit Course (ADVANCED)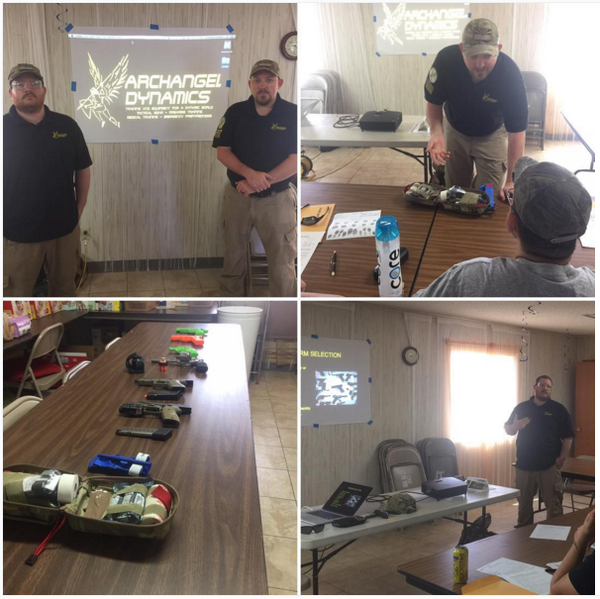 Archangel Dynamics Arizona Concealed Weapons Permit Course (ADVANCED)
The Archangel Dynamics AZ CCW Course (Advanced) covers the following areas:

1. Eligibility for obtaining and maintaining a permit.
2. Basic firearms safety, firearms and ammunition education.
3. System Integration (Integrating a Firearm into your Every Day Carry system).
4. Developing a Defensive Mindset.
5. What to do Before, During and After a defensive incident.
6. Arizona Law / Regulations regarding the use of force and carry restrictions.
The Advanced CCW Course adds the following:
1. Active Shooter Awareness and Survival
2. NAEMT B-Con Course (Bleeding Control for the Injured)*, information of this course is available here.
3. Range Trip with Qualification.

This class should last around 8-9 hours. Cost includes:
1. Classroom instruction.
2. Fingerprinting done on site, your first two cards included.
3. CCW Packet Completion (You will receive a packet, including two fingerprint cards and your CCW Application for DPS). This course does not cover the State application fee, which is discussed in class.
4. NAEMT B-Con Course Completion Certificate
5. Range Qualification

Classes are held on most Saturdays, and on occasion during week days. If you have a group of 5 or more and would like a class on any other day of the week, email us at info@archnageldynamics.com to arrange this. Groups of 5 or more are offered special pricing. Please contact us for details.
Please choose a date when checking out. Classes are capped at 15 students each. If your selected date is full, please select another date.
Location: A Mountain Church of God in Christ, in the dining hall adjacent to the Sanctuary.
1518 W. SAN MARCUS BLVD., TUCSON, AZ 85713
* This course does not include a free EDC Trauma Kit. Our full line of IFAKs are available for purchase on site.
No refunds. All sales are final. Please see our

Terms & Conditions

page.