Archangel Dynamics Two Day Tactical First Aid Course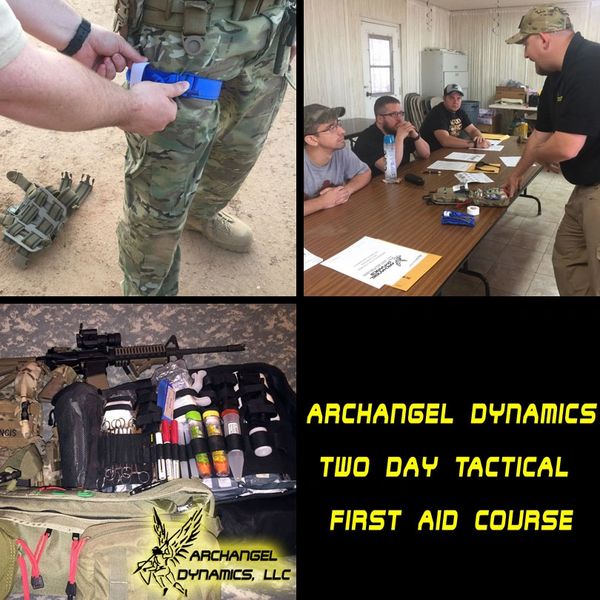 Archangel Dynamics Two Day Tactical First Aid Course
The November 17/18 Class will be hosted by SAFE Arizona Firearms Education in Mesa, Arizona.  The address is: 916 EAST BASELINE ROAD STE 227, MESA, AZ, 85204.
The Archangel Dynamics Tactical First Aid course is taught by Paramedics and Emergency Medical Technicians who have worked in both Military and Civilian settings, with a diverse background in both Trauma and Medical patient management in Tactical and Austere / Remote Care Settings.

The course includes with the tuition cost an 
Archangel Dynamics GEN 2 IFAK
 (A $114.95 value).  
The IFAK can be upgraded to add CELOX Gauze or a Chest Decompression Needle at an additional fee.  The IFAK is yours to keep, and you will be provided with training materials during the class, so your IFAK will go un compromised.  A handout will also be provided with the class, which covers several Pearls of Wisdom from this training program.  You will also receive an 
Archangel Dynamics Morale Patch
.  For a small fee, students can receive a
B-Con (Bleeding Control for the Injured) certificate with this course.  This course is offered on its own for $44.95.


Members of Crisis Application Group are eligible to receive their Austere Medicine Tab after completion of this course.  If you are a CAG Member, contact us before signing up for special pricing!
This high tempo course is based on current Tactical Casualty Care (TCCC) and PHTLS Guidelines.  This class will cover two days, and is broken down as follows:


Day 1: Classroom lecture, hands on skills training.
Day 2: Skills labs, Dynamic Scenario Training.



Our Skills Labs will allow students to practice the various techniques described below, and will instruct students in the various tools on the market to treat traumatic injuries while practicing with high quality training aids.  Skills Labs also cover purpose built and 

improvised  Chest Seals, Tourniquets and Pressure Bandages, wound packing, fracture management and more.  During Dynamic Scenario training, students will rotate in various roles, and will get a chance to practice everything that they have learned over the two days to work in a series of realistic scenarios that will push the students to perform in a high stress environment.  The scenarios are based on real world events that have occurred in Iraq and Afghanistan, as well as events here in the United States.

This course covers the following areas, and more:
1. The Three Phases of TCCC: Care Under Fire, Tactical Field Care and Tactical Evacuation Care.
2. Safe Casualty Movement and Extrication techniques
3. Casualty assessment and management using the S-MARCHE Protocol.
4. Recognition and Management of the three primary causes of death in a tactical environment: Uncontrolled Hemorrhage, Airway Compromise and Tension Pneumothorax.
5. Hemorrhage Control:
a. Application of a Tourniquet to a wounded extremity (Course covers application of the NAR CAT, the SOFT-W and the SWAT-T).
b. Wound packing with gauze and hemostatic agents.
c. Application of Pressure Bandages.
d. Management of high lethality Junctional hemorrhage.
6. Airway Management:
a. Basic Airway Maneuvers.
b. Suctioning the airway.
c. Insertion of a Nasopharyngeal Airway.
7. Tension Pneumothorax:
a. Application of a Chest Seal.
b. Relief of Tension Pneumothorax using a Chest Decompression Needle*
8. Recognition and treatment of Shock.
9. Further management of other austere medical emergencies, such as Burns, Head Injuries, Fractures, Environmental Emergencies, Eye Injuries, and infection prevention and control.
10. Considerations for casualty packaging and transport.
11. Special Patient Populations: Pediatric / Geriatric / K9 Trauma.


Class requirements:
1. Prerequisites: At his time there are no specified pre requisites.  This is subject to change in the future.  We recommend that each student attend, at a minimum, an AHA Heartsaver First Aid / CPR AED Course, a Wilderness First Aid Course, Military Self Aid / Buddy Care course or similar program.  Credentialed medical professionals are welcome to attend, however, this class currently does not offer CE / CME credit.
2. Clothing: Closed toed shoes, long pants, a belt, and either a T-Shirt or long sleeve shirt.  BDU style pants and jacket are recommended.  Please note that your clothing may become stained with simulated blood during the course.  These guidelines are designed to protect you from injury during the course.  STUDENTS NOT ARRIVING IN APPROPRIATE ATTIRE WILL BE EXCUSED FROM THIS COURSE.
3. PPE: Knee and Elbow pads are recommended, as are protective gloves and headgear.
4. Tactical gear: You are welcome to bring along Body Armor, Load Carrying Equipment, etc.  Be aware that these items may be stained by simulated blood during the course.
5. Firearms: No live firearms are allowed in the classroom.  You will be provided with non-firing training firearms on site.

6. Waiver: This is a high tempo class that carries with it the risk of physical injury.  You will be required to sign a waiver dismissing Archangel Dynamics, LLC of all liability on the morning of Day 1.  
This is a requirement for attendance in this class.
  Please see our TERMS & CONDITIONS page.

The November 17/18 Class will be hosted by SAFE Arizona Firearms Education in Mesa, Arizona.  The address is: 916 EAST BASELINE ROAD STE 227, MESA, AZ, 85204.


Please contact us regarding discounted pricing for Military Members and First Responders, and group discounts!


No refunds.  All sales are final.  Please see our 

Terms & Conditions

 page.