Archangel Dynamics IFAK (Gen 2) PRESALE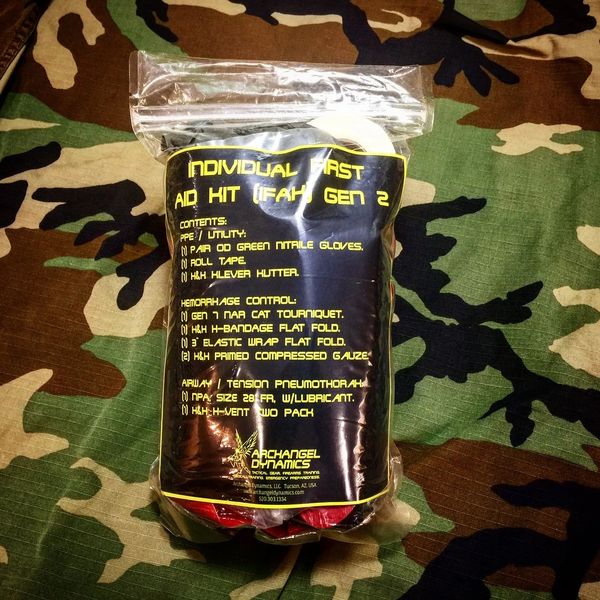 Archangel Dynamics IFAK (Gen 2) PRESALE
PRE-SALE! SAVE $15! This is a Pre-Sale, your IFAK will ship on 17 September 2018, at which time pre sale pricing will expire.
The Archangel Dynamics IFAK (GENERATION 2)
This kit is designed to comply with TCCC guidelines on the management of preventable battlefield death. This pouch contains everything that you need to treat yourself, or have a team mate treat you, for injuries sustained in a Tactical Environment. This kit is designed to treat casualties suffering from uncontrolled Extremity Hemorrhage, Airway Compromise and prevent worsening of Tension Pneumothorax, or to relieve a Tension Pneumothorax should your kit include an NAR ARS decompression Needle upgrade.

The Archangel Dynamics Gen 2 IFAK features new packaging.  The IFAK will come in a sealed poly bag, providing a durable, waterproof package ideal for any environment.  The heat sealed bag has a zipper to re-seal the bag once the quick access pull tab is removed.  The kit can either be kept in its original packaging, or, the end user can simply re-pack it into a MOLLE pouch of their choosing.  This kit is ideal for many applications, and fits easliy into gear bags, can be carried inside of your plate carrier, or be carried in many available pouches on the market.
Like many of our products, the labeling is two sided.  The from includes the kit's contents.  The back of the labeling features an innovative card designed to document any treatments given, from tourniquet application, wound packing, chest decompression and more! As always, your kit can be upgraded to include a Chest Decompression Needle (NAR ARS).
Our Generation 2 IFAK includes several upgrades over the Generation 1 IFAK.  We have replaced many of the original components with more compact items.  The Israeli Bandage has been replaced with a Flat-Fold H-Bandage from H&H, the shears have been swapped out for a Klever Kutter, and the elastic rolled bandage has been replaced with a flat packed version, all resulting in more compact overall packaging of the kit.To comply with the 2018 TCCC updates, a Vented chest seal has been included, now in more compact packaging.

Contents:
PPE / Utility:
(1) Pair OD Green Nitrile Gloves.
(1) Roll 1" Medical Tape.
(1) H&H Klever Kutter.

Hemorrhage Control:
(1) Generation 7 NAR CAT Tourniquet.
(1) H&H Thin H 4" x 7.5" Flat Fold Pressure Bandage.
(1) 3" Flat Packed Elastic Wrap.
(2) H&H Primed Gauze (packing gauze).

Airway / Tension Pneumothorax:
(1) Rusch Nasopharyngeal Airway, size 28 Fr, w/Lubricant.
(1) H&H H-Vent Two Pack (Contains 2 seals to treat entrance and exit wounds).
Optional Upgrade:
(1) NAR ARS Chest Decompression Needle (3.25", 14GA).*
* By ordering this item, customer warrants that they have the required training and authorizations to use this item. Archangel Dynamics, LLC, assumes no liability for its misuse.
No refunds.  All sales are final.  Please see our Terms & Conditions page.