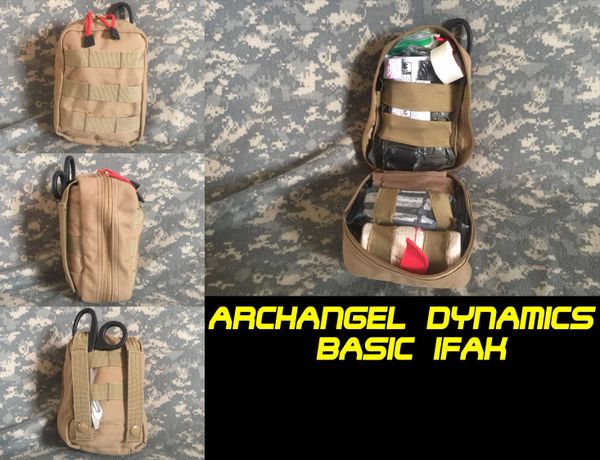 Archangel Dynamics IFAK
The Archangel Dynamics IFAK. This kit is designed to comply with TCCC guidelines on the management of preventable battlefield death. This pouch contains everything that you need to treat yourself, or have a team mate treat you, for injuries sustained in a Tactical Environment. This kit is designed to treat casualties suffering from uncontrolled Extremity and Hemorrhage, Airway Compromise and prevent worsening of Tension Pneumothorax.

These kits are available in OD Green, Coyote Tan, Black and Multicam at this time. The pouch is designed to clamshell open, for easy and unimpeded access to contents. Zipper pulls are upgraded to RED 550 Cord with cord ends, for rapid identification of your IFAK on your gear.


Contents (Basic Kit):
(1) MOLLE Pouch in the color of your choice (See above).

PPE / Utility:
(2) Pair OD Green Nitrile Gloves.
(1) Roll 1" Medical Tape.
(1) EMT Shears.

Hemorrhage Control:
(1) Generation 7 NAR CAT Tourniquet.
(1) 4" Israeli Emergency Bandage.
(1) 4" Elastic Wrap.
(2) Z-PAK Compressed packing gauze. One ZPAK Gauze will be replaced with a 10 Foot Z Folded CELOX Gauze as an optional upgrade.

Airway / Tension Pneumothorax:
(1) Rusch Nasopharyngeal Airway, size 28 Fr, w/Lubricant.
(1) HALO Chest Seal, non vented occlusive dressing (Contains 2 seals to treat entrance and exit wounds).

Optional Upgrade:
(1) NAR ARS Chest Decompression Needle (3.25", 14GA).*

* By ordering this item, customer warrants that they have the required training and authorizations to use this item. Archangel Dynamics, LLC, assumes no liability for its misuse.
No refunds. All sales are final. Please see our Terms & Conditions page.