Archangel Dynamics Arizona Concealed Weapons Permit Course (BASIC)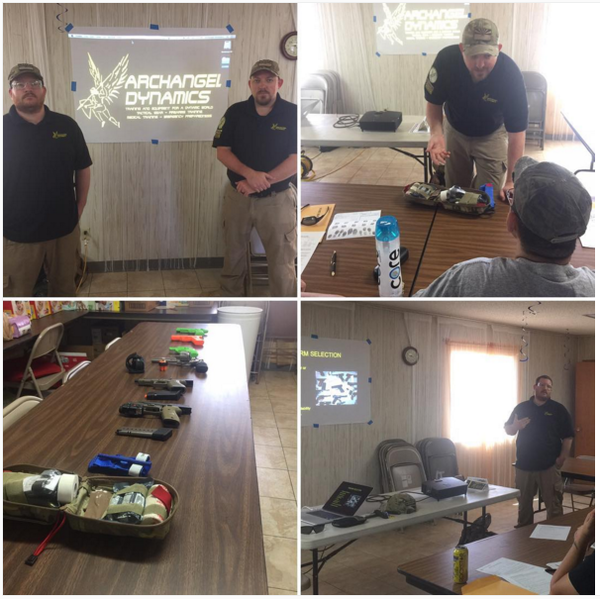 Archangel Dynamics Arizona Concealed Weapons Permit Course (BASIC)
The Archangel Dynamics AZ CCW Course (BASIC) covers the following areas:

1. Eligibility for obtaining and maintaining a permit.
2. Basic firearms safety, firearms and ammunition education.
3. System Integration (Integrating a FIrearm into your Every Day Carry system).

4. Developing a Defensive Mindset.
5. What to do Before, During and After a defensive incident.
6. Arizona Law / Regulations regarding the use of force and carry restrictions.
This class should last around 4 - 5 hours. Cost includes:
1. Classroom instruction.
2. CCW Packet Completion (You will receive a packet, including two fingerprint cards and your CCW Application for DPS). This course does not cover the State application fee, which is discussed in class.
3. FInger Printing is offered on site for a $10 Fee (You must send in two cards with your application).
Please note: This class does not go into detail on marksmanship skills. You are expected to be a competent shooter before attending this class. We offer a wide range of classes to assist you in this area.

Classes are held on most Saturdays, and on occasion during week days. Groups of 5 or more are offered special pricing. If you have a group of 5 or more and would like a class on any other day of the week, please contact us to arrange this.
Please choose a date when checking out. Classes are capped at 25 students each. If your selected date is full, please select another date.
Location: A Mountain Church of God in Christ, in the dining hall adjacent to the Sanctuary.
1518 W. SAN MARCUS BLVD., TUCSON, AZ 85713
When checking out, please enter your name as it appears on your drivers license, as well as the names of anyone attending with you. This helps us to prepare your student packets before class begins, so that class day goes smoothly and eficciently.

No refunds. All sales are final. Please see our Terms & Conditions page.