SAM Splint, Flat Folded, 36", Gray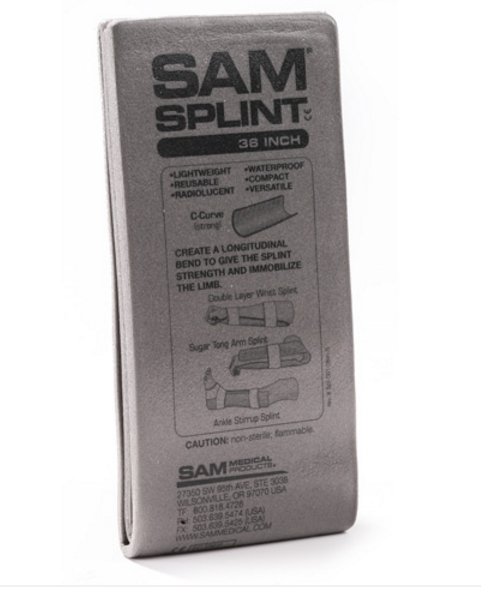 SAM Splint, Flat Folded, 36", Gray
The SAM (Structural Aluminum, Malleable) is a compact, low cost, light weight, multi use first aid tool. This easy to use, foam covered aluminum splint is moldable for use in many areas of the body to stabilize fractures. This is a must have for any First Aid Kit. This splint is the industry standard, and is currently in use by Military Forces worldwide, and by Fire and EMS agencies across the united states. Due to it's compact size and weight, this is an ideal addition to a Wilderness or Search and Rescue bag.
Features:

• Tactical Gray Coloration.
• Compact, Light Weight flat folded packaging.
• Waterproof.

• Not affected by environmental extremes of heat or cold.

• Latex Free.
• Reusable, easy to decontaminate due to closed cell foam coating.
• Radiolucent - does not obstruct XRAY Imaging.
• Easily secured using Tape, Ace Wrap, Coban, Kling Gauze or a SWAT-T.
• Can be used on any limb, or can be used as a Cervical Neck Collar.
• Diagrams included.
• Made in the USA.